Hello there,
Swans must be one of the most beautiful birds ever.  If we had the room on our property for a large pond I would certainly get a swan or two or three or four.
The Swan Lake stamp set that I used today has some really beautiful images in it, that's have the battle in the process of making a wonderful card.    I decided to shake my color combo up for this card and use pinks and greens and even added a bit of pink to my swan as if the water was reflecting off of it's white feathers.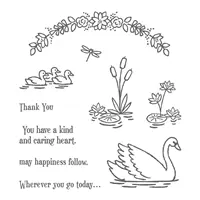 YOU CAN SEE JUST HOW TODAY'S PROJECT WAS CREATED IN TODAY'S STEP BY STEP TUTORIAL.  SEE HOW TO GET IT AND 11 OTHER TUTORIALS FROM THIS MONTH FREE BELOW.  LEARN TECHNIQUES YOU CAN APPLY TO YOUR OTHER STAMPING PROJECTS AS WELL. 
******************************************
SUPPLY LIST FOR THIS PROJECT (CLICK ON ITEMS TO VIEW)
GET THE WHOLE MONTH WORTH OF TUTORIALS FREE, 12 IN ALL ($21.99 VALUE).  PLUS EARN TOKENS TOWARDS A FREE STAMP SET WITH MY CUSTOMER LOYALTY PROGRAM) HOLY COW!
Place a $50 merchandise order between DECEMBER 1, 2017 and DECEMBER 31, 2017 using Hostess Code
VW49WANB

 and receive the entire month of tutorials (at least 12) free of charge via e-mail.
You will receive all 12 of the project tutorials for the month of DECEMBER, as they are created and a recap off all of them at the end of the month.  You will also receive 1 virtual token from me for each $50 in merchandise purchased with your order.  Collect 10 tokens and receive a free stamp set of your choice up to a $30 value from me with my customer loyalty program.   Now, that's the way to get some bang for your buck!
TO RECEIVE THIS OFFER PLEASE USE HOSTESS CODE: VW49WANB When placing your order.   (PLEASE DO NOT USE IF MERCHANDISE ORDERED IS OVER $150 so you receive the hostess benefits plus the 12  free tutorials for the month and your tokens).
Free tutorials are an exclusive perk for my Stampin' Up! customers and Stampin' Up Team. 
First ten tutorials for December, 2017 Tutorial Package.  Two more fun and creative projects to come!
****************************************
TO PURCHASE THIS MONTH'S SINGLE TUTORIALS OR THIS MONTH'S TUTORIAL PACKAGE AT A DISCOUNT

 CLICK HERE FOR DETAILS.
****************************************
LAST CHANCE!  THE YEAR END STAMPIN' UP! SALES EVENT IS HAPPENING NOW.  PRODUCTS ARE ONLY AVAILABLE WHILE SUPPLIES LAST.  CLICK

HERE

TO SEE WHICH HOLIDAY PRODUCTS ARE ON SALE AND RETIRING.
****************************************
IT'S BIG NEWS WHEN SOMETHING BREAKS THE MOLD AND CHANGES EVERYTHING. THE STAMPARATUS WILL CHANGE THE WAY YOU STAMP, AND BEFORE LONG, YOU'LL WONDER HOW YOU CRAFTED WITHOUT IT!
With the launch of this tool, Stampin' Up! is trying something different – a new reservation system. This system will allow Stampin' Up! to get this high demand product in demonstrator and customer hands as soon as possible.
****************************************