Hello Stampers,
First of all today, I would like to thank all of my customers and my fantastic Stampin' Up! Team.  Because of all of you I received the honor of being in the Stampin' Up! Global Top 100, out of over 60K demonstrators world wide, this past weekend at the Stampin' Up! On Stage event.  I just cannot thank you all enough, you really ROCK! and my heart is bursting with joy!
Also, today in my neck of the woods it is nothing but blue skies and lots of sunshine.  Add Ohio's colorful Autumn trees and it makes the most perfect day.  So, of course, I had to stamp it out using the Stampin' Up! Life is Beautiful stamp set.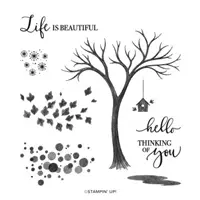 I used really bright and beautiful colors to capture the feeling of the day.  I love this Mango Melody and Pacific Point combo together.  The sentiment can be changed for so many different occasions, especially this time of year it would be nice to add "grateful for you" to the card.
Well, now I'm off to the chicken yard to hang out with some of my favorite girls in the sunshine while it lasts.
Want the complete step by step tutorial for todays project?  SEE HOW TO GET all 12 of this month's tutorials

FREE

OR BY PURCHASE  BELOW and learn something new.  🙂   ******************************************
FULL SUPPLY LIST FOR THIS PROJECT (CLICK ON ITEMS TO VIEW)
*****************************************
PLACE A $50 MERCHANDISE ORDER BETWEEN NOVEMBER 1, 2020 AND NOVEMBER 30, 2020 USING HOSTESS CODE

6R4ZJAXX
 

AND RECEIVE THE ENTIRE MONTH OF NOVEMBER TUTORIALS (AT LEAST 12) FREE OF CHARGE VIA E-MAIL.  THAT'S NOT ALL KEEP READING!
ALONG WITH ALL 12 OF THE PROJECT TUTORIALS FOR THE MONTH OF NOVEMBER, 2020, YOU WILL GET A RECAP OF ALL OF THEM AT THE END OF THE MONTH AND YOU WILL ALSO RECEIVE 1 VIRTUAL TOKEN FROM ME FOR EACH $50 IN MERCHANDISE PURCHASED WITH YOUR ORDER.   **COLLECT 10 TOKENS AND RECEIVE A FREE STAMP SET OF YOUR CHOICE UP TO A $30 VALUE FROM ME WITH MY CUSTOMER LOYALTY PROGRAM.
TO RECEIVE THIS OFFER PLEASE USE HOSTESS CODE:

6R4ZJAXX
 

WHEN PLACING YOUR ORDER.  
$150+ ORDER: PLEASE DO NOT ADD THE HOST CODE SO YOU WILL GET THE HOSTESS CREDITS.  YOU WILL AUTOMATICALLY QUALIFY FOR THE 12 FREE TUTORIALS FOR THE MONTH PLUS THE TOKENS.  
First four tutorials in this month's tutorial package.  Eight more fun and creative tutorial to come this month!

 **Please note, customer appreciation tokens expire after 2 years.
******************************************
PURCHASE THIS MONTH'S TUTORIAL PACKAGE      
****************************************
GET YOURS NOW!  Starting today, November 3, the Curvy Celebrations products are available for purchase!CLICK HERE TO get yours NOW
****************************************