Hello there,
This is one of those cards you can use for so very many occasions, so why not make a few at one setting?  It certainly is one of my quicker creations and it was made with the ever versatile Flourishing Phrases Stamp set that has so many sentiments in it.  I left it blank for now and will stamp it when I know what occasion I want to use it for.  🙂  I'm sure it will get me out of one of those binds when I need to get a card out quick!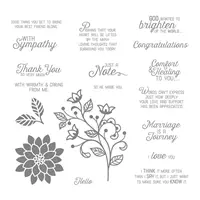 YOU CAN SEE JUST HOW TODAY'S PROJECT WAS CREATED IN TODAY'S STEP BY STEP TUTORIAL.  SEE HOW TO GET IT AND 11 OTHER TUTORIALS FROM THIS MONTH FREE BELOW.  LEARN TECHNIQUES YOU CAN APPLY TO YOUR OTHER STAMPING PROJECTS AS WELL.  
*************************************************
Complete Supply List
*****************************************************
The 31st is the last day!

GET THE WHOLE MONTH WORTH OF TUTORIALS FREE, 12 IN ALL ($21.99 VALUE).  PLUS EARN TOKENS TOWARDS A FREE STAMP SET WITH MY CUSTOMER LOYALTY PROGRAM AND RECEIVE THE STAMPIN' UP! JULY BONUS (SEE BELOW) HOLY COW!
Place a $50 merchandise order between July 1, 2017 and July 31, 2017 using Hostess Code
3NNQ6WCC 

 

and receive the entire month of tutorials (at least 12) free of charge via e-mail.
You will receive all 12 of the project tutorials for the month of July, as they are created.  You will also receive 1 virtual token from me for each $50 in merchandise purchased with your order.  Collect 10 tokens and receive a free stamp set of your choice up to a $30 value from me with my customer loyalty program.   Now, that's the way to get some bang for your buck!
PLEASE USE HOSTESS CODE:

3NNQ6WCC
 

 When placing your order.   (PLEASE DO NOT USE IF MERCHANDISE ORDERED IS OVER $150 so you receive the hostess benefits plus the 12  free tutorials for the month).
Free tutorials are an exclusive perk for my Stampin' Up! customers and Stampin' Up Team.
First eleven tutorials in the June, 2017 Tutorial Package.  One more fun tutorial to come in this month's package.
*******************************************************
TO PURCHASE THIS MONTH'S SINGLE TUTORIALS OR THIS MONTH'S TUTORIAL PACKAGE AT A DISCOUNT

 CLICK HERE FOR DETAILS.
******************************************************
Check out these deals from Stampin' Up! 
STAMPIN' UP! BONUS DAYS!  JULY 1 – 31.  EARN IN JULY.  REDEEM IN AUGUST!
For every $50 (on a single order, price before shipping and tax) you spend between July 1-31,  you'll earn a $5.00 Bonus Days coupon that you can redeem between August 1 – 31, 2017.
EARNING (JULY 1-31)  IMPORTANT DETAILS!
Keep Your Codes!  Save both the email containing your Bonus Days coupon codes AND write down the coupon codes in a safe place. Codes cannot be re-sent if the email is lost, and lost codes cannot be recovered.
Requires Email!  An email address is required to participate; bonus Days coupon codes can only be delivered via email.
No Limit!  There is no limit to the number of coupons you can receive per order or throughout the duration of the promotion.
REDEEMING (AUGUST 1-31)  IMPORTANT DETAILS!
No Limit!  There is no limit on the number of coupons participants can use on an order during redemption.
What Will You Use Your Coupon Codes For?  Bonus Days coupon codes can be redeemed for any Stampin' Up! product, excluding Starter Kits, Stampin' (Host) Rewards and Paper Pumpkin month to month subscriptions.  New prepaid Paper Pumpkin kits ((1, 3, 6 and 12 month fixed subscriptions) can be discounted with Bonus Days coupons.
******************************************************************
Best Deal of all for July
THE BEST JULY DEAL OF ALL!  The $99 Starter Kit is a fabulous way to purchase Stampin' Up! products at a discount.  Get $72 worth of BONUS products when you purchase the $99 Starter Kit and join Stampin' Up! in July.  No risk.  No obligation to purchase anything further.  No penalty to drop!  LEARN MORE.
I WELCOME HOBBY STAMPERS!  Purchase the kit and join through me and enjoy the benefits of being part of my Team.  You will receive all of my current tutorials free.  Get the full scoop HERE and please don't hesitate to email me at mzindorf@aim.com with any questions.  I'm happy to help.
Huge Hugs,