Hi there,
I'm chilling this morning while doing one of my favorite past times, stamping!
I love, love, love creating little scenes with ink, paper and stamps.  I start by picking a stamp set I want to use, which is hard because I pretty much own everything in the Stampin' Up Catalog, lol.  So many stamps so little time. . . . .  Then I pick out a stamp from the set I want to be my main focus and then build a little scene for the image to be in.  Today I thought these little trees from the Waterfront stamp set needed some Northern Lights.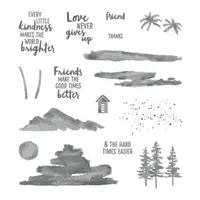 Waterfront Photopolymer Stamp Set – 146386
I put the whole scene on a diamond shape by turning the square card stock, easy but sure adds interest.
YOU CAN SEE JUST HOW TODAY'S PROJECT WAS CREATED IN TODAY'S STEP BY STEP TUTORIAL.  SEE HOW TO GET IT AND 11 OTHER TUTORIALS FROM THIS MONTH FREE BELOW.  LEARN TECHNIQUES YOU CAN APPLY TO YOUR OTHER STAMPING PROJECTS AS WELL.  
*****************************************
FULL SUPPLY LIST FOR THIS PROJECT (CLICK ON ITEMS TO VIEW)
*****************************************

PLACE A $50 MERCHANDISE ORDER BETWEEN MAY 1, 2018 AND MAY 31, 2018 USING HOSTESS CODE

TTJ3Q3AF

 AND RECEIVE THE ENTIRE MONTH OF TUTORIALS (AT LEAST 12) FREE OF CHARGE VIA E-MAIL.  THAT'S NOT ALL KEEP READING!
Along with all 12 of the project tutorials for the month of May, you will get a recap of all of them at the end of the month you will also receive 1 virtual token from me for each $50 in merchandise purchased with your order.   **Collect 10 tokens and receive a free stamp set of your choice up to a $30 value from me with my customer loyalty program.
TO RECEIVE THIS OFFER PLEASE USE HOSTESS CODE: TTJ3Q3AF When placing your order.   $150+ ORDER: PLEASE DO NOT ADD THE HOST CODE.  You will automatically qualify for the 12 free tutorials for the month plus the tokens. 
**Please note tokens expire after 24 months.
The first ten tutorials in the May, 2018 tutorial package.    Two more fun and creative tutorials to come in this month's package.

****************************************
*****************************************
TIME IS RUNNING OUT!
Only 3 more days to pick up these wonderful retiring stamps and accessories before they are gone, gone, gone!  CLICK HERE
*****************************************
May 1 – 31!  Want to get your hands on new products from the Stampin' Up! 2018-2019 Annual Catalog before it begins on June 1?  Click here for a brochure of the product bundles you can order during the Share What You Love Early Release promotion!
*****************************************