Hello there,
I hope this post finds you having a wonderful day, possibly getting inky maybe.  🙂
In the past I didn't create a whole lot of cards for children, but now that I have 3 grand daughters I find I'm making them quite often.  My favorite ones to create are cards I can just send to them willy nilly for no reason what so ever.  I especially love to put happy mail out to Aubree, who is 4.  She loves to get mail and gets so excited about grandma's cards.  She keeps them on the night stand next to her bed, so cute.
Aubree will get this Wild About You card this week.  I'll be heading out on the Stampin' Up! Alaska cruise in a few days and I just want her to know I am thinking of her while I a gone.
Our oldest grand daughter, Hailie Jade, who is now 14, is going on the cruise with us.  It is her first cruise and she is so excited. I have been getting daily texting from her saying "So Excited". Grandpa and I are wondering how she will survive without her cell phone for 10 days, Lord help us.
As for our adorable third grand daughter, Riley, who just turned 1.  She  isn't quite ready to receive mail, everything still goes straight to her mouth since she is teething, lol.  Man I love her
Now about today's project, since it is a card for a child I kept the colors for this creation very bright to make it oh so cheerful.   Just look, I broke out the new Stampin' Up! Leaf Ribbon.  When I first seen the ribbon I thought it would be stiff but it is soft and very easy to work with.  It is a must have.  What is also a must have is the super cute Animal Outing stamp set I used today.  You can also get it with the coordinating dies with a 10% discount.
YOU CAN SEE JUST HOW TODAY'S PROJECT WAS CREATED IN TODAY'S STEP BY STEP TUTORIAL.  SEE HOW TO GET IT AND 11 OTHER TUTORIALS FROM THIS MONTH FREE BELOW.  LEARN TECHNIQUES YOU CAN APPLY TO YOUR OTHER STAMPING PROJECTS AS WELL.  
*****************************************
FULL SUPPLY LIST FOR THIS PROJECT (CLICK ON ITEMS TO VIEW)
*****************************************

PLACE A $50 MERCHANDISE ORDER BETWEEN JULY 1, 2018 AND JULY 31, 2018 USING HOSTESS CODE UEGXMKWM
AND RECEIVE THE ENTIRE MONTH OF TUTORIALS (AT LEAST 12) FREE OF CHARGE VIA E-MAIL.  THAT'S NOT ALL KEEP READING!
Along with all 12 of the project tutorials for the month of July, you will get a recap of all of them at the end of the month you will also receive 1 virtual token from me for each $50 in merchandise purchased with your order.   **Collect 10 tokens and receive a free stamp set of your choice up to a $30 value from me with my customer loyalty program.
TO RECEIVE THIS OFFER PLEASE USE HOSTESS CODE: UEGXMKWM When placing your order.   $150+ ORDER: PLEASE DO NOT ADD THE HOST CODE.  You will automatically qualify for the 12 free tutorials for the month plus the tokens. 
**Please note tokens expire after 24 months.
The first seven tutorials in the July, 2018 tutorial package.    Five more fun and creative projects to come this month.
****************************************
*****************************************
*****************************************
THIS IS THE ONE YOU HAVE BEEN WAITING FOR!  Purchase the $99 Starter Kit and receive $125 worth of products which you select and join Stampin' Up! July 1 – 31 and receive a FREE color collection of 10 Classic Stampin' Ink Pads as a bonus!  Choose from 5 Stampin' Up! color collections.  That's up to a $75 value!  Plus it all ships to you for free!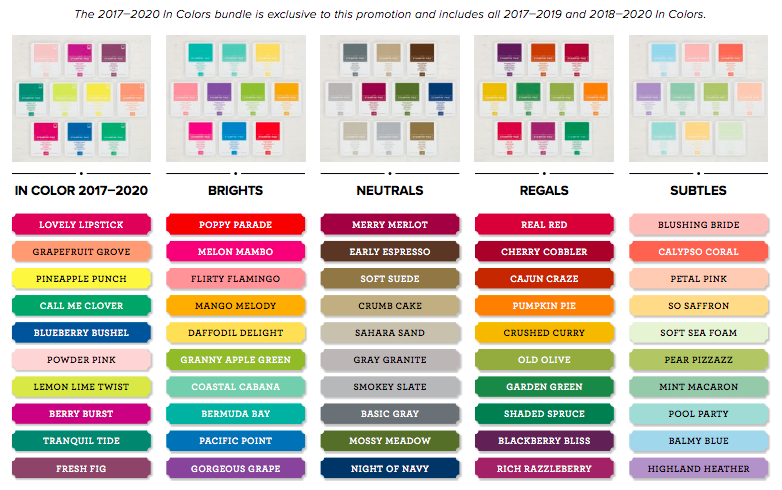 You can join the Stampin' Up! Family "no strings attached" as a Business or "just for the discount" Hobby Demo and keep the discount until, at least, January, 2019.
For being on my team you will also receive my tutorials as they are created free!
*****************************************
Thanks for stopping by. . . . .
*****************************************