Hello Stampers,
Sometimes it is just plain fun to pull out two stamp sets and just see what happens, as was the case today in my craftroom.  I put the extremely popular Toile Christmas set and the beautiful, Woven Heirlooms set together for this creation.  Also created my own warm colored background for this fellow.
Click on the stamp set images below to see life size.  🙂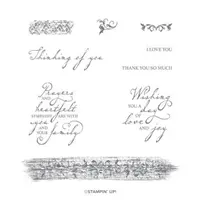 Woven Heirlooms Cling Stamp Set – 149306
Using an additional stamp set in your projects really does take it to a new level.  It gives you so many more options.  Especially a set like Woven Heirlooms, which to me, is all about the special touches you can add.  Such a wonderful  warm and cozy tapestry look.
Repeating the warm colors used on my main image panel else where gave this project a cozy, wrapped in a blanket feel.
SEE HOW TO GET THE STEP BY STEP TUTORIAL

FREE

OR BY PURCHASE  BELOW and learn something new.  🙂 
****************************************
*
FULL SUPPLY LIST FOR THIS PROJECT (CLICK ON ITEMS TO VIEW)
****************************************
*
PLACE A $50 MERCHANDISE ORDER BETWEEN OCTOBER 1, 2019 AND OCTOBER 31, 2019 USING HOSTESS CODE

SPX2QN2E
 

AND RECEIVE THE ENTIRE MONTH OF TUTORIALS (AT LEAST 12) FREE OF CHARGE VIA E-MAIL.  THAT'S NOT ALL KEEP READING!
ALONG WITH ALL 12 OF THE PROJECT TUTORIALS FOR THE MONTH OF OCTOBER, YOU WILL GET A RECAP OF ALL OF THEM AT THE END OF THE MONTH AND YOU WILL ALSO RECEIVE 1 VIRTUAL TOKEN FROM ME FOR EACH $50 IN MERCHANDISE PURCHASED WITH YOUR ORDER.   **COLLECT 10 TOKENS AND RECEIVE A FREE STAMP SET OF YOUR CHOICE UP TO A $30 VALUE FROM ME WITH MY CUSTOMER LOYALTY PROGRAM.
TO RECEIVE THIS OFFER PLEASE USE HOSTESS CODE:

SPX2QN2E

 

WHEN PLACING YOUR ORDER.  
$150+ ORDER: PLEASE DO NOT ADD THE HOST CODE SO YOU WILL GET THE HOSTESS CREDITS.  YOU WILL AUTOMATICALLY QUALIFY FOR THE 12 FREE TUTORIALS FOR THE MONTH PLUS THE TOKENS.  
FIRST PROJECT IN OCTOBER, 2019 TUTORIAL PACKAGE.  ELEVEN FUN AND CREATIVE PROJECTS TO COME!

 **Please note, customer appreciation tokens expire after 2 years.
****************************************
PURCHASE THIS MONTH'S TUTORIAL PACKAGE       
***************************************
*